No. 17 Short Film Ratings
The films that I have watched recently have been Dead Poets Society, The Martian, The LEGO Movie, Star Trek Beyond and Starter For 10.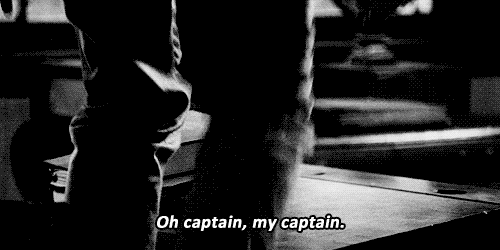 Dead Poets Society | 5/5
(It won the BAFTA for Best Film and the Oscar for Best Original Screenplay)
IMDb Rating: 8.0
Released: 1989
Starring: Robin Williams, Robert Sean Leonard, Ethan Hawke, Josh Charles, Gale Hansen.
I'm not going to bother giving a summary of the film, JUST WATCH IT! I'm going to treat you to some of my favourite quotes from the film.
"No matter what anybody tells you, words and ideas can change the world."
"Boys, you must strive to find your own voice. Because the longer you wait to begin, the less likely you are to find it at all. Thoreau said, "Most men lead lives of quiet desperation." Don't be resigned to that. Break out!"
"We don't read and write poetry because it's cute. We read and write poetry because we are members of the human race. And the human race is filled with passion. And medicine, law, business, engineering, these are noble pursuits and necessary to sustain life. But poetry, beauty, romance, love, these are what we stay alive for. To quote from Whitman, "O me! O life!… of the questions of these recurring; of the endless trains of the faithless… of cities filled with the foolish; what good amid these, O me, O life?" Answer. That you are here – that life exists, and identity; that the powerful play goes on and you may contribute a verse. That the powerful play *goes on* and you may contribute a verse. What will your verse be?"
The Martian | 5/5
(The film won a Golden Globe for Best Motion Picture- Musical or Comedy, and Matt Damon won a Globe for Best Actor)
IMDb Rating: 8.0
Released: 2015
Starring: Matt Damon, Jessica Chastain, Kristen Wiig, Jeff Daniels, Sean Bean, Michael Pena, Kate Mara.
Astronaut Mark Watney (Matt Damon) is left behind by his crew mates on Mars, presumed dead after a fierce storm. With limited supplies, the stranded visitor must utilise his wits and spirit to find a way to survive on the hostile planet. Meanwhile, back on Earth, members of NASA and a team of international scientists work tirelessly to bring him home, while his crew mates hatch their own plan for a daring rescue mission. 
Matt Damon delivers a fantastic performance as the stranded astronaut Mark Watney. The mixture of Watney's self-belief, wittiness and helplessness that he exhibits during his 560 day stint on Mars is the highlight of the film. Watney's emotional struggles and his attempts to remain alive are the central focus of The Martian, and there are plenty of thrills and spills as he goes through the emotional and physical wringer. As NASA, Watney and Watney's crew mates develop a plan to rescue him from Mars, the suspense and hope steadily builds as they get closer to D-Day for the rescue mission which would be a life-or-death situation for Watney. A terrific film with Matt Damon in probably his best dramatic performance since Good Will Hunting.
The LEGO Movie | 4/5
(It won the BAFTA for Best Animated Film)
IMDb Rating: 7.8
Released: 2014
Starring: Chris Pratt, Will Ferrell, Elizabeth Banks, Will Arnett, Nick Offerman, Alison Brie, Charlie Day, Liam Neeson, Morgan Freeman, Channing Tatum, Jonah Hill, Colbie Smulders.
Emmet (Chris Pratt) an ordinary LEGO mini-figure who is identified as the most "extraordinary person" and the key to saving the LEGO universe, embarks on an epic journey with an array of characters to stop the evil tyrant Lord Business from completing his dastardly plan to glue everyone still. 
A film with some surprisingly deep moments and that is filled with comedy and happiness but with a moral point at its centre. 'Everyone is extraordinary' is the theme that runs throughout, and although Emmet never believes that to be true, a belief that is shared by the other characters. The graphics are excellent, an improvement on the LEGO video games, with the car chase a particular highlight. A heart-warming story that children and adults will enjoy.
Star Trek Beyond | 4/5
(Critically and commercially successful, grossing over $300 at the box office)
IMDb Rating: 7.1
Released: 2016
Starring: Chris Pine, Zachary Quinto, Karl Urban, Simon Pegg, Zoe Saldana, John Cho, Anton Yelchin, Idris Elba.
After stopping off at Starbase Yorktown, a remote outpost on the fringes of Federation space, the USS Enterprise, halfway into their five-year mission, is destroyed by an unstoppable wave of unknown aliens. With the crew stranded on an unknown planet and with no apparent means of rescue, they find themselves fighting against a ruthless enemy with a well-earned hatred of the Federation and everything it stands for. Only a rebellious alien warrior can help them reunite and leave the planet to stop this deadly menace from beginning a possible galactic war. (Paramount Pictures)
The new generation of Star Trek actors further establish themselves together and demonstrate that the franchise has staying power as they delve into uncharted territories of space (an area which could spawn countless films). When the Enterprise is destroyed and Kirk, Spock and the crew are stranded on an unknown planet, they are in what appears to be an impossible position as the aliens head to the Federation's Starbase to utterly annihilate them. With limited resources and with the help of a rebellious warrior, Kirk leads a daring rescue mission and races back to prevent a cataclysmic event. The Starfleet are once again on form in their respective roles, the villain is a strong opponent and the story is good enough to hold the attention of the audience for over the 2 hour duration.
Starter For 10 | 3.75/5
(A witty coming-of-age film starring many actors at the beginning of their careers)
IMDb Rating: 6.7
Released: 2006
Starring: James MacAvoy, Alice Eve, Benedict Cumberbatch, Rebecca Hall, Dominic Cooper, James Corden, Mark Gatiss, Catherine Tate, Charles Dance.
Brian Jackson (MacAvoy) enrolls in the University of Bristol, a scholarship boy  with a love of knowledge for its own sake and a childhood spent watching "University Challenge". At Bristol he tries out for the Challenge team and falls under the spell of Alice, a lovely blond with an extensive sexual past. He's smitten, and he carelessly manages to hurt the feelings of Rebecca Epstein, a friend whose politics and wit he admires. The Challenge finale is coming up; maybe Brian can redeem himself and still avoid being a prat.
A witty coming-of-age British film following Brian (MacAvoy) as he enrolls at University and makes it onto the University Challenge team, a huge dream of his. During his time at university he falls in love with Alice, connects with Rebecca, falls out with his best friends Duncan and also makes a prat of himself on many occasions. A fascinating look at the emotional and physical wrangles a young man gets into as he tries to find a sense of who he is and who he loves. A film for university students and for those that adore the coming-of-age genre like I do.
---
The Humpo Show | Richard