Mission Impossible Films (Short Film Ratings)
The high-action film franchise is one of my favourites to watch. Tom Cruise is a great actor, and he is born for the role of Ethan Hunt. The stunts he performs are exceptional, the action is completed in such a fluid manner that makes it all come across as realistic and with great impact. Following up on my review of the recent release Mission: Impossible – Fallout, I have decided to do some short film ratings of the franchise as a whole.
Let me know how you would rank each film!
Mission Impossible (1996)
Humpo Show Rating | 7.8
IMDb Rating | 7.1
Starring: Tom Cruise, Jon Voigt, Emmanuelle Beart, Ving Rhames, Vanessa Redgrave, Henry Czerny, Jean Reno, Kristin Scott Thomas and Emilio Estevez
Director: Brian De Palma
Plot Summary: An American agent, under false suspicion of disloyalty, must discover and expose the real spy without the help of his organisation. (IMDb)
Having watched this quite a few times over the years, the shock factor has lost much of its value, but it still has plenty of moments that make me smile, and plenty other moments that make for a gripping action film.
I couldn't stop smiling when I heard the iconic 'Mission Impossible theme tune' during the film for the first time. The nostalgia and rawness of the music got me thinking of how far the franchise has gone and how they've blended the music into the subsequent films rather than used it exactly.
THAT scene! Iconic. No words.
Mission: Impossible II (2000)
Humpo Show Rating | 6.4
IMDb Rating | 6.1
Starring: Tom Cruise, Thandie Newton, Ving Rhames, Dougray Scott, Brendan Gleeson, Richard Roxburgh, John Polson, Rade Sherbedgia and Anthony Hopkins
Director: John Woo
Plot Summary: IMF Agent Ethan Hunt is sent to Sydney, to find and destroy a genetically modified disease called "Chimera". (IMDb)
The early scene of Cruise and Newton in the bathroom is brilliantly choreographed. One of the sexiest moments in the franchise, and Cruise looks like a cheeky schoolboy who can't believe his luck as he is straddled by the beautiful Newton.
There are three major points that made me put this film last in terms of my rating of the Mission Impossible films:
* The musical choices – the Spanish music at the start was apt and perfect for the scene with the dancer in Seville, but when Ethan and Newton were in bed the music made a reappearance and it wasn't necessary. It gave the impression of a hot and steamy romance film, rather than an action flick.
* The finale with the excessive use of slow-motion capture of fighting moves for a fight that lasted a very long time! It got boring quickly, and it is a far cry from the slick fighting sequences of later films.
* TOO MANY FACE SWAPS!
Mission: Impossible III (2006)
Humpo Show Rating | 8.4
IMDb Rating | 6.9
Starring: Tom Cruise, Philip Seymour Hoffman, Ving Rhames, Billy Crudup, Michelle Monaghan, Jonathan Rhys Meyers, Keri Russell, Maggie Q, Simon Pegg and Laurence Fishburne  
Director: J. J. Abrams
Plot Summary: IMF Agent Ethan Hunt comes into conflict with a dangerous and sadistic arms dealer who threatens his life and his fiancee in response. (IMDb)
The personal storyline is my favourite plot from the Mission Impossible franchise, the stakes are always high with the IMF taskforce, but the personal nature of the film helps to ramp things up a notch further.
The first scene between Cruise and Seymour Hoffman is one of the scenes that I remember most from the franchise – it works fantastically well. it blends nail-biting tension with a stroke of comedy. That is later followed by another visual that I love seeing – when Hunt is preparing a plan to obtain the 'rabbit's foot' from a secure building in Shanghai, he writes on the glass window of the apartment he is staying in with the outline of the buildings (pictured). The plan is outrageous and the way that they edit and present the outcome of it is perfect.
Mission: Impossible – Ghost Protocol (2011)
Humpo Show Rating | 8.5
IMDb Rating | 7.4
Starring: Tom Cruise, Simon Pegg, Jeremy Renner, Paula Patton, Michael Nvqvist, Anil Kapoor and Léa Seydoux
Director: Brad Bird
Plot Summary: The IMF is shut down when it's implicated in the bombing of the Kremlin, causing Ethan Hunt and his new team to go rogue to clear their organization's name. (IMDb)
When someone says "Ghost Protocol", I immediately think of Cruise on the side of the Burj Khalifa (tallest building in the world).
The first film in the second era of the Mission Impossible franchise, and what a film to come back with! Ethan Hunt comes back with some incredible and suspenseful stunts. It is possibly the film I have seen the most in the series and I will continue to rewatch it and rewatch it – it is that good!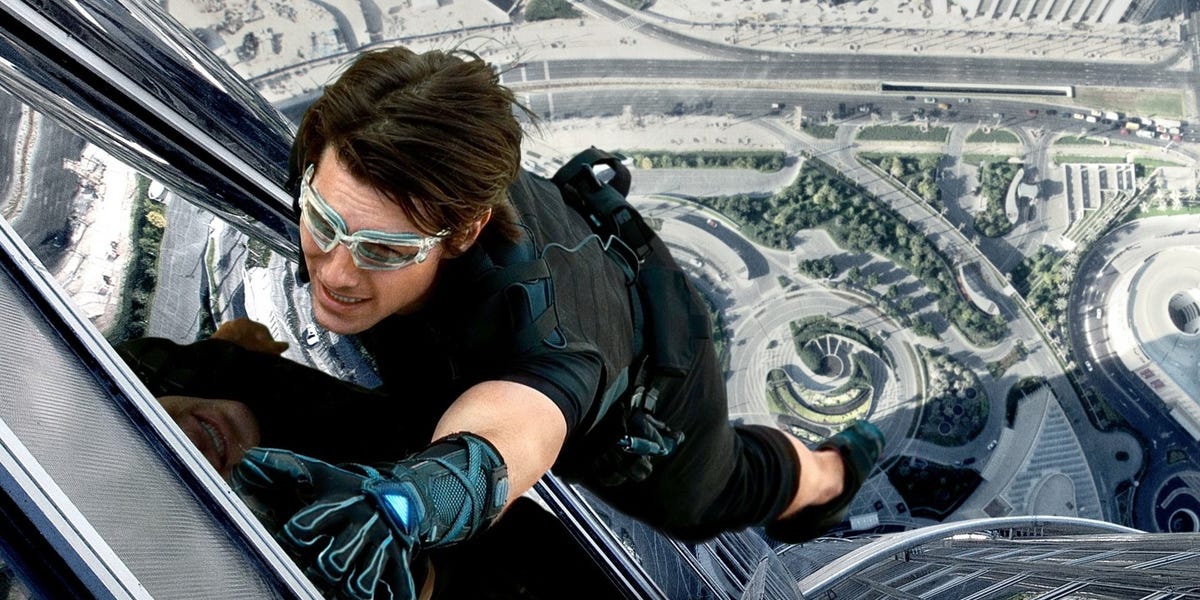 Mission: Impossible – Rogue Nation (2015)
Humpo Show Rating | 8.1
IMDb Rating | 7.4
Starring: Tom Cruise, Simon Pegg, Jeremy Renner, Rebecca Ferguson, Alec Baldwin, Sean Harris, Ving Rhames, Simon McBurney and Tom Hollander 
Director: Christopher McQuarrie
Plot Summary: Ethan and team take on their most impossible mission yet, eradicating the Syndicate – an International rogue organization as highly skilled as they are, committed to destroying the IMF. (IMDb)
There is brilliant thinking behind some of the scenes in Rogue Nation. The opening events at the Kremlin are staged impeccably well, and that early piece of action sets the tone for the set pieces that follow. The consistent stream that carries on, including an excellently directed and choreographed scene at an opera performance in Vienna, a daring break-in to a data storage facility in Casablanca, and a clever finish on the streets of London.
Rogue Nation continues with some of the same supporting cast and it helps to propel the story on quickly aswe are already acquainted with them. The storyline isn't too dissimilar to that of the previous film, but McQuarrie deals with it in his own style, and it makes for a great set up to Fallout!
Mission: Impossible – Fallout (2018)
Humpo Show Rating | 8.8
IMDb Rating | 8.4
Starring: Tom Cruise, Henry Cavill, Ving Rhames, Simon Pegg, Rebecca Ferguson, Sean Harris, Vanessa Kirby, Alec Baldwin, Michelle Monaghan and Angela Bassett
Director: Christopher McQuarrie
Plot Summary: Ethan Hunt and his IMF team, along with some familiar allies, race against time after a mission gone wrong. (IMDb)
Check out the FULL REVIEW, it really is a fantastic cinema experience!
---
The Humpo Show | Richard