THE WORLD CUP FILM TAG
With less than a week until the first game of the FIFA World Cup that is held in Russia this year, I thought it would be a good idea to combine my love of football (soccer for my American followers) with my love of films, by doing this fun tag. I look forward to seeing everyone's answers if you decide to do the tag, if you haven't been tagged and want to do it, please do it as I am interested in reading everyone's answers. Please do tag me in your post so I can sneakily read your answers and get some inspiration for films that are set in countries I haven't seen.
The Rules: 
* Pick ONE country from each group!
* If you are struggling, you can pick a film you want to see at some point.
* You can do anything you like, such as: a little bit of information about the film, a quote, stills, film poster, review, favourite scene, go crazy!
* TAG AS MANY PEOPLE AS YOU WANT!
* ALSO, tell everyone who you are supporting in the World Cup!
* AND, judging by the films you have chosen, which country would win the World Cup!
– GROUP A 


– GoldenEye
The 1995 film, starring Pierce Brosnam as the 007 Secret Agent is one of my favourite James Bond films.
James Bond: Who is the competition?
Jack Wade: Ah, an ex-KGB guy. Tough mother. Got a limp in his right leg. Name's Zukovsky.
Bond: Valentin Dmitrovitch Zukovsky?
Wade: Yeah, you know him?
Bond: I gave him the limp.
– GROUP B 


– Casablanca
One of the most iconic films of all time. Nothing more can be said.
I think this is the beginning of a beautiful friendship.
– GROUP C 


– Moulin Rouge
It is such a beautiful and funny film, with plenty of fantastic songs, including, my favourite, "Come What May". Acted perfectly by Ewan McGregor and Nicole Kidman, the film is a musical lover's dream.
– GROUP D


– Evita
I particularly struggled with this group, and I plumped for Evita. The film isn't one I love and it would probably be knocked out first in terms of the group winners I have chosen, but I do like a musical, as we have already seen.
– GROUP E 


– Notorious
A spy noir from Alfred Hitchcock. That sentence is enough to convince me to watch whatever film it is.
Alicia: This is a very strange love affair.
Devlin: Why?
Alicia: Maybe the fact that you don't love me.
– GROUP F 


– Schindler's List
Heartbreaking and exceptional in equal measure. Schindler's List is such an important film, and it one that everyone should watch at some point. It really is a humbling experience.
This list… is an absolute good. The list is life. All around its margins lies the gulf.
– GROUP G


– Hot Fuzz
I have approximately seen Hot Fuzz 1625242 times! British comedy at its finest. I quote the film multiple times every day. A very strong candidate for the winner of the World Cup…
If we don't come down hard on these clowns, we are going to be up to our *balls* in jugglers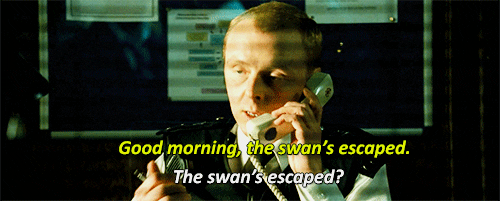 – GROUP H 


– The Pianist
A film watched at school and I have remembered watching it ever since. Every film about war, suffering and the experiences people had will always be important, but some stand out from the crowd, The Pianist is such a film.
The winner of the World Cup is…ENGLAND (Hot Fuzz) 🏴󠁧󠁢󠁥󠁮󠁧󠁿
I will be supporting…ENGLAND at this year's World Cup!! 🏴󠁧󠁢󠁥󠁮󠁧󠁿
---
I tag: 
dbmoviesblog | One of my favourite film bloggers. His favourite directors include Hitchcock, Lynch, Cronenberg, Scorsese, von Trier, McQueen & Minghella.
Kevin @ Master Mix Movies | A recent follower, but my browsing his blog I already know I'll love reading his thoughts on films.
Katie @ Film and TV | A regular poster of Film and TV reviews (shock!), and her recent reviews include: Game Night, Death Wish, Every Day and the Slasher TV show.
Isabelle @ Films With Isabelle | A fairly new follower, but I already love her reviews, including the new Jurassic World.
Alex @ Ally Dewing | A very engaging film lover on here, Twitter and she also has a YouTube channel, so be sure to check her out!
Film4Fan | A supportive film blogger that writes a great variety of film posts, including the recently engaging discussion post on A Quiet Place.
Sian @ Sian's Blog | A new follower you I have found through Twitter's #afilmclub chat.
Thomas @ Movie Warden | A prolific and insightful movie reviewer. I love reading his reviews, so get following him!
Hermione @ Wild Fire Movies | Posts about both current releases and her regular "Classic Movie of the Week", so she caters for lots of readers.
Maddy @ Maddy Loves Her Classic Films | One of the most supportive and amazing film bloggers out there! She is running an Alfred Hitchcock blogathon soon, so go and sign up if you're interested.
Caz @ Let's Go To The Movies | The perfect place to satisfy your film and theatre needs
I hope everyone enjoys participating in this Tag, if not/can't, don't worry about it. I look forward to reading all your answers. 
---
The Humpo Show | Richard