Avengers: Infinity War ★★★★½
Humpo Show Rating | 9.0
IMDb Rating | 9.1
Starring: Robert Downey Jr., Chris Hemsworth, Chris Evans, Mark Ruffalo. Scarlett Johansson, Benedict Cumberbatch, Don Cheadle, Tom Holland, Chadwick Boseman, Paul Bettany, Elzabeth Olsen, Anthony Mackie, Sebastian Stan, Tom Hiddleston, Idris Elba, Peter Dinklage, Benedict Wong, Pom Klementieff, Karen Gillan, Dave Bautista, Vin Diesel, Bradley Cooper, Gwyneth Paltrow, Benicio del Toro, Josh Brolin, Chris Pratt
Director: Anthony Russo, Joe Russo
Plot Summary: The Avengers and their allies must be willing to sacrifice all in an attempt to defeat the powerful Thanos before his blitz of devastation and ruin puts an end to the universe. (IMDb)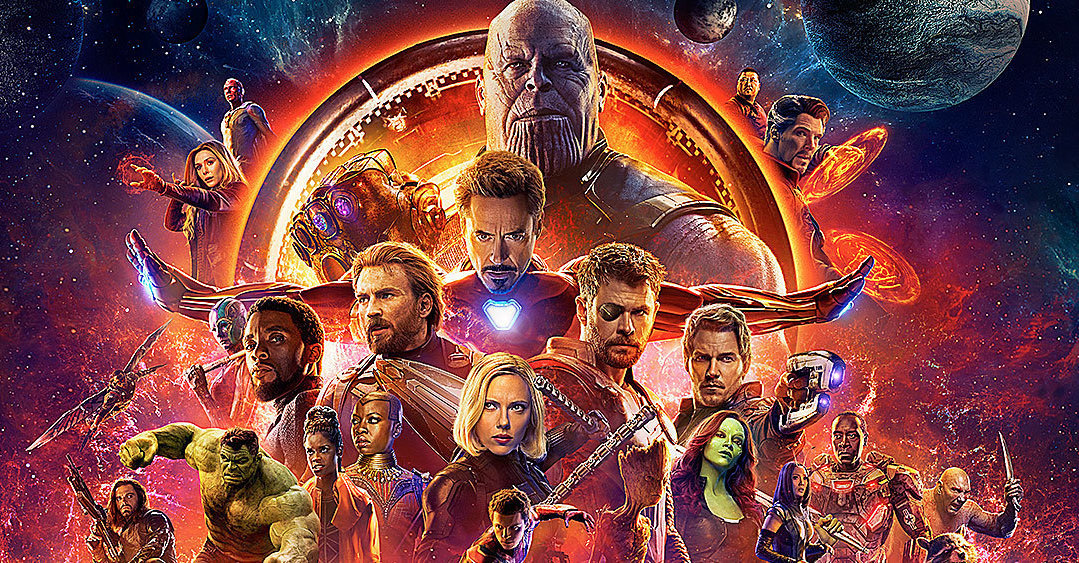 The culmination of a decade's worth of build up, spanning twenty films has led to this awesome and huge blockbuster that has blitzed all the records going! Avenger: Infinity War is the second most expensive film ever made, after Pirates of the Caribbean: On Stranger Tides, and plenty of the expense has been afforded to the colossal cast that comprises of a plethora of leading characters. When the hype dies down on Infinity War, it will still be one of, if not the best film in Marvel Cinematic Universe. Action-packed, funny, and with a villain that is worthy of every single superhero. 
Thanos (Josh Brolin) is front and centre of the film which makes it markedly different from other Marvel films given that it is typically the hero receiving the most screen time. The huge superhero cast contributes to this scenario somewhat, but I like to think that the Russo brothers made the film in such a way as to make Thanos the central character, with plenty of detail afforded to his aims, backstory and his personality. He is an absolute scene-stealer, with his demeanour and sheer will seeing that he becomes the centre of attention. His motives are a familiar tool used by others before in other creative works, one that comes to mind is Dan Brown's Inferno, and the motive is based on a famous graph that depicts the human population growth in our history. Thanos feels that there are too many beings in the universe and that by culling a % of the universe's population it will result in a better universe that can live in harmony, unlike his birth planet that crumbled due to overpopulation.
With so many major players in this film the directors were under pressure to give them enough screen time while also progressing the story on without it becoming stilted, which they managed. The Russo brothers split the various heroes up into groups:
Iron Man, Doctor Strange and Spider-Man.
Star-Lord, Gamora, Drax, Groot, Rocket, Mantis, and Thor.
Black Panther, Captain America, Black Widow, Hulk, Vision, Scarlet Witch, War Machine, and Falcon.
By splitting them up, it helped to create separate storylines but that are all geared to either stop Thanos from getting one of the Infinity Stones, but or to go after him and to defeat him. At 2hr40, the storylines are well developed and in this fast-paced and ever-changing landscape they had to be! Not a second is wasted, and
The film evoked memories of Star Wars: Empire Strikes Back, not only in terms of the dynamic of the storyline, but also in the fighting sequences, where we often see arena-like settings (Wakanda and Titan). It must be said that the fighting sequences are riveting and the CGI is seamless, and a lot of the visuals are excellently captured, props go to the cinematographer Trent Opaloch (Captain America: Winter Soldier) for delivering top-notch visuals.
Infinity War is an epic and sensational comic-book film and the hype for Part Two is going to be enormous although I am sure many of us have an inkling as to how this plays out, but that doesn't matter one jot, as Marvel and the Russo brothers have created a fantastic film that the fans absolutely loved, and has made the past 10 years well worth the wait!
Long may Marvel reign!
---
* I'll be on holiday next week, and I have no scheduled posts, therefore my next blog post may be the Thursday 17th May. In the meantime, feel free to scroll through my lists of Films and Books reviews *
The Humpo Show | Richard