Black Panther ★★★★☆
Humpo Show Rating | 7.8
IMDb Rating | 7.7
Starring: Chadwick Boseman, Michael B. Jordan, Lupita Nyong'o, Danai Gurira, Martin Freeman, Daniel Kaluuya, Letitia Wright, Winston Duke, Angela Bassett, Forest Whitaker, Andy Serkis
Director: Ryan Coogler
Plot Summary: T'Challa, the King of Wakanda, rises to the throne in the isolated, technologically advanced African nation, but his claim is challenged by a vengeful outsider who was a childhood victim of T'Challa's father's mistake. (IMDb)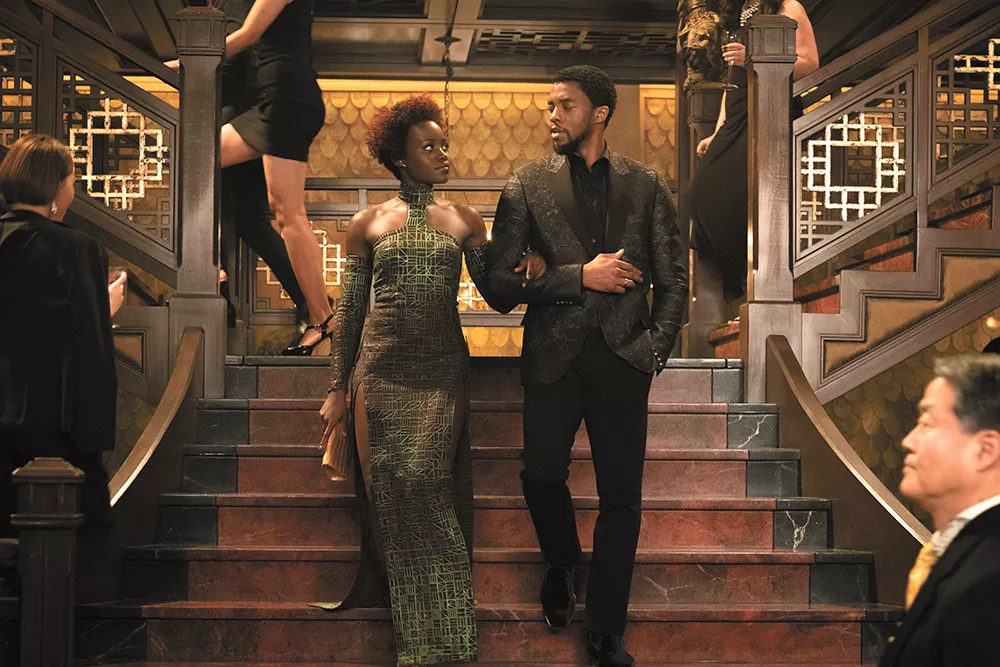 Following on from my Marvel Short Film Ratings (Films released in 2015-17) I have recently watched 2018's Black Panther, which is the final film leading up to Infinity War. 
Black Panther's timeline continues on from the events in Captain America: Civil War, where the King of Wakanda has been assassinated and it is up to his son, T'Challa (Chadwick Boseman), to become what he was born to be- the new King of Wakanda and the Black Panther. 
It is a story about a Prince who is transitioning into King yet has to struggle with the truth of the sins of his father. The struggle manifests itself with Killmonger/N'Jadaka (Michael B. Jordan), who has reason to hate T'Challa and the way that Wakanda is ruled. Killmonger represents disillusioned African Americans, and he has a palpable hatred of "colonisers" because of the oppression that African Americans have, and Wakanda's lack of help. The presence of a villain with a clear and understandable purpose and motive was good to see, and it seems that Marvel are beginning to have have villain's that aren't just evil, save for Hela in Thor: Ragnarok.
T'Challa is in a unique position in terms of heroes in the Marvel universe in that he is constrained in some respects by also having to be a ruler of a country. We get to witness some of the inner conflicts of this unique challenge- a couple of the political discussions were dealt with a little too quickly for my liking, but I was thoroughly entranced by the ceremonies that T'Challa had to undertake to become King and the Black Panther.
The film's cinematography, visuals and costume design were a breath of fresh air to not only the Marvel universe, but to Hollywood film-making in general. The costumes were a beautiful blend of African tribal design and futuristic technology. Black Panther finds itself in a niche genre of Afro-futurism, where one of the aspects imagines what Africa could have been without the influence of colonialism. The world-building of Wakanda, the history, and customs were aided by the visuals and costumes- they collectively contributed to a vivid world that was fascinating to enter.
While the story is perhaps the weakest aspect of the film given that it offers nothing new and that its predictability is high, it doesn't detract from the film too much. It is interesting, entertaining and a wonderful superhero film that I place alongside the Guardians of the Galaxy films and Wonder Woman as one of my favourites. 
---
The Humpo Show | Richard