A Quiet Place (2018)
Humpo Show Rating | 7.5
IMDb Rating | 8.2
Starring: John Krasinski, Emily Blunt, Millicent Simmonds, Noah Jupe, Cade Woodward
Director: John Krasinski
Plot Summary: A family is forced to live in silence while hiding from creatures that hunt by sound. (IMDb)
John Krasinski (The Office USA) has directed and starred in a fantastic and much-hyped horror that has received widespread acclaim from everyone, including master storyteller Stephen King, who knows a thing or two about creating incredible horror stories. Starring alongside his wife (Emily Blunt), the pair of them portray a married couple in an unspecified town in America where they have to live in silence due to the presence of monsters that hunt by sound. It is a tense and suspenseful ride. 
Silence is a big part of horror films, it is used when a monster, demon, murderer is out of view and the main characters are scared senseless as they try to evade death, infection or possession. However, in A Quiet Place they take it to the next level by having a largely silent film due to the hunt-by-sound monsters. It is a novel idea and one that works well and is sustained throughout. The effect of the silence helps to strengthen the tense and eerie atmosphere that is prevalent in almost every scene. Regan (Simmonds) is the pair's deaf daughter and the decision to include a deaf actor is rightly applauded- the decision for her to remove her hearing aid was a fantastic inclusion also, as the audience could really imagine her perspective, plus it also helped to create anxious moments.
The aspect of the film that annoyed me the most was the decision-making of the children. Their poor decisions were prevalent throughout the film. It began with the rocket, continued with the game of monopoly, and was on full display when Regan decided to switch off her hearing aid even when the obvious properties of the aid had become apparent…twice! Of course these events were all used for various ends, but for me, it detracted from the overall viewing of the film as all of the events showcased the children's poor choices, Regan's hearing aid choice at the end was bewildering.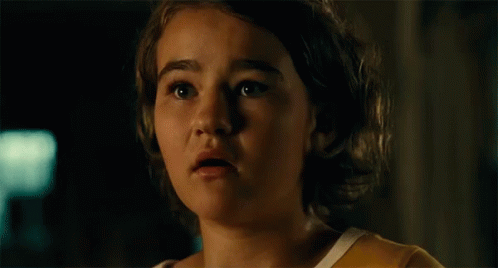 A Quiet Place is a thrilling horror film that many have, and will enjoy. Krasinski's performance as actor and director is the highlight of the film, he performed the role of devoted father and protector brilliantly. There is a scene towards the end where his character is a picture of anguish and the shot is absolutely exceptional. The film flows seamlessly and the ninety minutes flies by in no time, there isn't a single scene or frame wasted. I could talk endlessly about the film, as it was riveting, but it was also tinged with a little frustration as it could have been exceptional. 
---
The Humpo Show | Richard