Sherlock Holmes 130th Anniversary 🕵️ 
The Man Who Never Lived and Will Never Die…
It has been 130 years since the famous master detective Sherlock Holmes appeared in Beeton's Christmas Annual, his first appearance in print. A Study in Scarlet, the first work of Arthur Conan Doyle in his detective series, marks the beginning of the hugely successful series that has spanned many television, film and stage adaptations. The final novel that Conan Doyle had published, His Last Bow, also celebrates its centenary anniversary later this month (18th). Although there is some historical debate as to what the exact anniversary date is (between 21st November and 1st December), let's just celebrate the famous detective through this tribute post!
Famous for donning a deerstalker hat when cases took him into the countryside, his mind palace where he collected and stored facts and information, his catchphrases, and his fantastical skills of deduction, Sherlock Holmes is the nation's favourite detective, and his character has continued to survive and thrive for over one hundred and thirty years, a statistic that not many other characters can claim to match!
My review of all the Sherlock Holmes novels and short stories written by Arthur Conan Doyle. The favourite of the collection is The Sign of Four. A wonderful mystery that blends the 1857 Indian Rebellion, a stolen treasure and a secret pact between 4 people, and of course it has Sherlock's deduction powers on full display.
Here is a paragraph from my (very early) review of the collection…
"Within the dense miasma of London in the Victorian era, multifaceted problems are brought to Holmes' attention, for his magnificent and heralded skills are needed to decipher them. The role as "consulting detective" which he created for himself ensures that he can aid with problems that are not in the police's jurisdiction but because he finds the challenge of these unusual and singular matters testing and fascinating. Watson chronicles their encounters into events of the people of London which bring them to their rooms as well as chartering his close quarters analysis of Holmes, and he recants Holmes' explanations of how he uses his logical reasoning, observation and vast knowledge to come to his conclusions."
Famous Quotes
0 The game is afoot! 👣
0 Elementary my dear, Watson 🔎 (Although he never says this in Conan Doyle's original stories!)
0 When you have eliminated the impossible, whatever remains, however improbable, must be the truth.
0 You see but you do not observe.
0 You know my methods, Watson.
Recent Portrayals of Sherlock Holmes
Sherlock (BBC series 2010-2017)
Has won 24 awards from various institutions and in countless categories, including 3 BAFTAs and 9 Emmys. It helped to catapult Benedict Cumberbatch into roles in The Hobbit, Star Trek and Marvel franchises, as well as his Academy Award-nominated role as Alan Turing in 2014's The Imitation Game.  Martin Freeman played Dr John Watson, he also received a career boost from his turn in his role as Sherlock's sidekick, appearing as Bilbo Baggins in The Hobbit trilogy and the Award-winning Fargo TV series.
The BBC Sherlock series has been one of my favourite TV series ever, especially the early seasons which had a formula that worked very well and seen the show win multiple awards. However, the last season was a bit of a hit and miss as the writers seemed to try and make the show more complex than it needed to be. The Sherlock-Moriarty battle of wits will be an abiding memory from this TV series as the BBC got the cast absolutely spot on for this modern adaptation.
Sherlock Holmes (2009 and 2011)
Robert Downey Jr and Jude Law paired up to star in the hugely successful film series (2 so far, more planned) which has already brought in and has exceeded $1bn at the box office. Downey Jr plays the role with same swagger that he delivers in his Tony Stark/ Iron Man role, and Jude Law is a decent John Watson. The next instalment is likely to be late 2019 due to Downey Jr filming Infinity War and its sequel and Guy Ritchie directing the live-action remake of Aladdin.
This Hollywood version of Sherlock Holmes is filled with dazzling special effects, incredible stunts and multi-layered storylines that are engrossing for both of the 2hr films. Sleek and dynamic, both of these films are high on my list of Holmesian portrayals, and I implore you all to give these a watch!
Anthony Horowitz, author of Foyle's War and the massively successful Alex Rider book series, has been commissioned to write some more Sherlock Holmes novels to be added to the already huge canon. His House of Silk (2011), and Moriarty  (2014) books are fantastic inclusions to the canon, and I look forward to any more additions that he pens.
"A plethora of villains tries to deny Holmes from finding the inconspicuous and ambiguous place, called the House of Silk. The severity of the investigation, which his brother Mycroft had warned them against taking on, comes to fruition and Holmes' resourcefulness and unique talent for disguise and misdirection are exemplified. Holmes finds himself calling upon his talents as the claws of the criminal beast enclose around him, and threaten his life like nothing before, save his memorable show down with Moriarty at Reichenbach Falls in "The Final Problem"." (House of Silk)
Sherlock Holmes Facts
0 Holds a Guinness World Record as the most portrayed movie character of all time.
0 William Gillette played Sherlock Holmes in a 1900 production and he injected himself with cocaine live on stage.
0 A Study in Scarlet only took Conan Doyle 3 weeks to complete…and it was a flop!
0 Doyle killed Holmes off in 1893, but brought him back due to public outrage.
The Sherlock Holmes Museum
The Museum has been since 1990, but due to the recent popularity of Cumberbatch's Sherlock in particularly, the Museum has received even more visitors than before. Given that Sherlock Holmes is a fictional character, the props inside are of to give a sense of what 221B Baker Street rooms would have been like. It is a faithful representation of murky Victorian London. My first visit to the museum was over 10 years ago, and I still remember standing outside with my brother wearing a deerstalker hat. There is also a gift shop that can fulfill all your Sherlocky needs! I still have a Baker Street address sign that I have blu-tacked to my bedroom wall!
Nearest Tube: Baker Street (Bakerloo, Circle, Jubilee, Hammersmith & City, Metropolitan lines)
Admission: Adults £15 Child (under 16) £10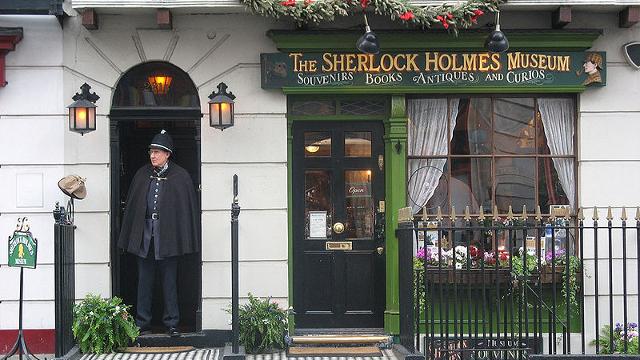 Have a Happy Sherlock Day! 
---
The Humpo Show | Richard