Indiana Jones and the Kingdom of the Crystal Skull (2008)
Humpo Show Rating | 5.6
IMDb Rating | 6.2
Starring: Harrison Ford, Cate Blanchett, Karen Allen, Shia LaBeouf, Ray Winstone, John Hurt
Director: Steven Spielberg
Plot Summary: Famed archaeologist and adventurer Dr. Henry "Indiana" Jones, Jr. is called back into action, when he becomes entangled in a Soviet plot to uncover the secret behind mysterious artifacts known as the Crystal Skulls. (IMDb)
The second post as part of the blogathon hosted by Thoughts All Sorts and Weegiemidget Reviews, following on from my post about Harrison Ford in Indiana Jones and the Raiders of the Lost Ark. This time the focus is Kingdom of the Crystal Skull which was released 27 years after his debut in the Indiana Jones role. 
First off, as you can see from my rating, Crystal Skull is my least favourite Indy film and despite there being some entertaining action scenes and it was great to go to the cinema to watch an Indiana Jones film given that I wasn't born for the original trilogy, the film is decidedly average.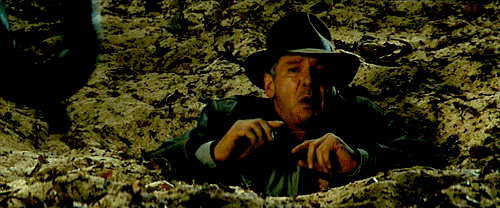 Ford is thankfully still Indiana Jones as he is irreplaceable and hopefully Disney agree, especially as he is slated to appear in a FIFTH Indy film sometime between 2019 and 2020! He is more cranky in this outing as he is a much older man, and Ford does excellently in performing as many stunts as he can. It does feel like he and the cast are trying their best to carry the film due to the script, especially the last third (no one needs to be reminded of that!).
Ok…I will remind you of the truly awful last third of the film without giving spoilers (you'll have to find out for yourselves!). 19 years after The Last Crusade, which is my favourite Indy film, they decide to finish Crystal Skull with a totally bizarre ending that left audiences feeling short-changed as it is the most un-Indy ending ever. Never mind the monkey scene, which is preposterous in itself, the finale caused me to be completely dumbfounded and deflated as I exited the cinema as I was hoping for so much more. 
Ford gives good performances in the titular role of Indiana Jones despite them being 27 years apart- a significant amount of time for action films, but he does a valiant job of being at the helm despite his advancing years. Hopefully he can give another good account of himself in Indy 5, and who knows I might be doing this blogathon with Temple of Doom and Indy 5 next time!!
---
The Humpo Show | Richard