Emma Stone Tribute
Today is my birthday… but it is also Emma Stone's! The Academy Award-winning actress is one of the highest paid actresses in the world, and despite being under 30 she has amassed 61 nominations including 31 wins. She won her Best Actress Oscar for her role as Mia in critically acclaimed La La Land having been nominated in the same category two years earlier for her role in Birdman. Along with her Oscar, Emma has won a BAFTA and Golden Globe (all for La La Land), as well as receiving a variety of nominations and awards for a mixture of films from ceremonies such as; Venice Film Festival, Screen Actors Guild Awards, Scream Awards, The Comedy Awards and Nickelodeon's Kids Choice Awards. Her films have varied from the hilarious Superbad, to the surprisingly brilliant Easy A, the comedy-horror Zombieland, a superhero franchise film in the shape of The Amazing Spiderman, and of course a modern musical, La La Land.
Some of my favourite films of Emma…
La La Land | Mia
Her most famous role. The modern musical swept the critics off their feet at the end of 2016 and beginning of 2017 as this magnificent film pulled out all the stops in order to create a musical that would stand up to the classic musicals of yesteryear. Emma's portrayal of Mia is wonderful, and she had the opportunity to showcase her lovely singing voice, dancing skills and infectious personality.
Easy A | Olive
An American Teen Comedy that stands out from the crowd by tackling the issue that many girls go through during their school years- gossip, rumour and hearsay about who they've slept with, and how many guys they've been with. This issue is tackled exceptionally well, and Emma's sass, wittiness and power shines through in her role of Olive who finds herself as centre of attention from her school and beyond because of her supposed reputation.
The Amazing Spiderman | Gwen
Emma steps into the multi-billion universe of comic-book superheroes as the love interest of Spiderman/Peter Parker played by Andrew Garfield (The Social Network), in the reboot of the Spiderman franchise in the film The Amazing Spiderman. She plays the smart and charismatic character very well, and the on-screen chemistry between Stone and Garfield clearly worked well as they ended up dating for quite a while before they reportedly broke up.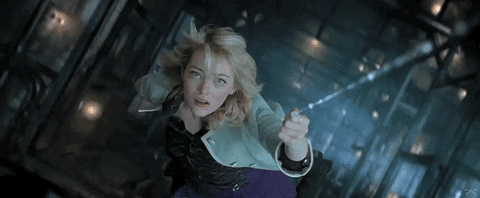 Superbad | Jules
Although the role is smaller than her others, this was an earlier role that garnered some interest in Emma as she clearly came across as an attractive actress who can also deliver comedic performances. Her scenes with Jonah Hill (War Dogs) were funny and very real- an early sign of her capacity to do comedy roles, as well as a glimpse at her contagious personality.
Zombieland | Wichita / Krista
Like Easy A, Zombieland is a surprisingly good film that is famous for Woody Harrelson's love for Twinkies, and a great cameo by Bill Murray. But Stone and Jesse Eisenberg (Now You See Me) are the stars with their believable chemistry and the great banter. This film also demonstrates the versatility of Stone's acting abilities as she takes on a comedy-horror, a genre that not many young actresses would have taken, or had the ability to do so.
Some Facts About Emma:
0 She broke both arms aged 7 while on the parallel bars gymnastics.
0 She quit Facebook as she was addicted to Farmville.
0 Emma and her mother are huge Beatles fans and her mother's favourite song is Blackbird. Emma sent Paul McCartney a letter, asking him to draw little bird feet her mother and her could get it tattooed on their wrists. Paul did send them a sketch and now they have cute, matching tattoos!
0 She's afraid of being lifted over someone's head- something she had to do in Crazy, Stupid, Love.
Some Funny Videos…
A hilarious almost-meet up with the Spice Girls | The Graham Norton Show
Lip Sync Battle | The Jimmy Fallon Show
A compilation of funny moments…
Happy Birthday to Emma Stone…and to me! 😀
---
The Humpo Show | Richard