Pirates of the Caribbean: Salazar's Revenge
3.25 / 5
IMDb Rating: 7.3
Starring: Johnny Depp, Brenton Thwaites, Kaya Scodelario, Javier Bardem, Geoffrey Rush, Kevin McNally, Orlando Bloom.
Director: Joachim Ronning, Espen Sandberg.
Plot Summary: Thrust into an all-new adventure, a down-on-his-luck Capt. Jack Sparrow feels the winds of ill-fortune blowing even more strongly when deadly ghost sailors led by his old nemesis, the evil Capt. Salazar, escape from the Devil's Triangle. Jack's only hope of survival lies in seeking out the legendary Trident of Poseidon, but to find it, he must forge an uneasy alliance with a brilliant and beautiful astronomer and a headstrong young man in the British navy.
An enjoyable yet flawed return for the swashbuckling Captain Jack in a new adventure that sees pirates aplenty, un-dead sailors led by a vengeful captain, ferocious sea monsters, treasure maps in the stars, and a legendary mythical item that can control the seas. In a similar vein to Stranger Tides, this good-natured romp is a fun summer blockbuster, but it does not reach the heights of the first three films. 
Although the original triumvirate of Jack, Will and Elizabeth will never be bettered, the introduction of two newbies to the Pirates canon Henry and Carina were decent additions. However, the inevitable romance between them was forced and empty due to the lack of meaningful screen-time where the romance should supposedly develop. They had some banter, conflict and partnership scenes, but it did not live up to the scenes of Will and Elizabeth, which is ultimately the undoing of every new Pirates film, as they can not replicate the freshness of scenes which have already been done before.
The villain of the piece is known as 'The Butcher', given his long history of eradicating dozens of pirate ships. Salazar, the Spanish captain in question is introduced to us as a water-bound, living-dead captain who is played competently by Javier Bardem, whose character is hamstrung by over-the-top CGI. Through a flashback we see how this hideous fate that he has been dealt came about…spoiler alert…it was Jack's doing. The specifics of his curse are a bit muddled as they connected to the magical compass, who possesses it, and whether Salazar and his crew are allowed on land or not. When Jack trades the compass for rum, part of the curse is lifted and Salazar can escape the Devil's Triangle where his ship was downed and head into open sea. To thwart Salazar, Jack sails off in pursuit of the Trident of Poseidon, a mythical artefact that grants whoever holds it control over the oceans. Along the way, he picks up Carina Smyth (Kaya Scodelario, Maze Runner), an astronomer wrongly accused of witchcraft, and Henry Turner (Brenton Thwaites, The Giver), a fresh-faced sailor who believes the Trident can free his father Will (Orlando Bloom) from the curse of The Flying Dutchman.
The opening scene with the 'bank robbery' was a fun introduction and raised hopes among Pirates fans that the film would be an improvement on Stranger Tides, although it would better that film, it falls quite short of any of the first three films. The scene incorporated the three hero characters nicely, established that Jack has lost his way a little but is still the loveable rogue that we all know and love. The scene was something similar to Guy Ritchie's Sherlock Holmes, with a similar kind of slapstick, swashbuckling and slickness that Downey Jr showcased in scenes in the labyrinthine Victorian London, with Depp demonstrating those traits perfectly in Saint Martin.
Despite a promising opening, as the main story was introduced and developed, it became a bit convoluted with too many players involved, all of them pursuing the trident for personal means. Henry, Carina, Jack, Barbosa, Salazar and the British Empire. The British have no depth to their story, no memorable characters and their motive for getting involved in the chase for the trident was just easy and vague. Whereas in Dead Man's Chest and At World's End we were treated to Norrington and Beckett, two well-developed characters with a clear motive and determination for their actions, in Salazar's Revenge, we just don't have that. I felt that The British were only included for the pursuit scene in the latter stages which led to a dramatic entrance of Salazar's haunted carcass of a ship that devours ships.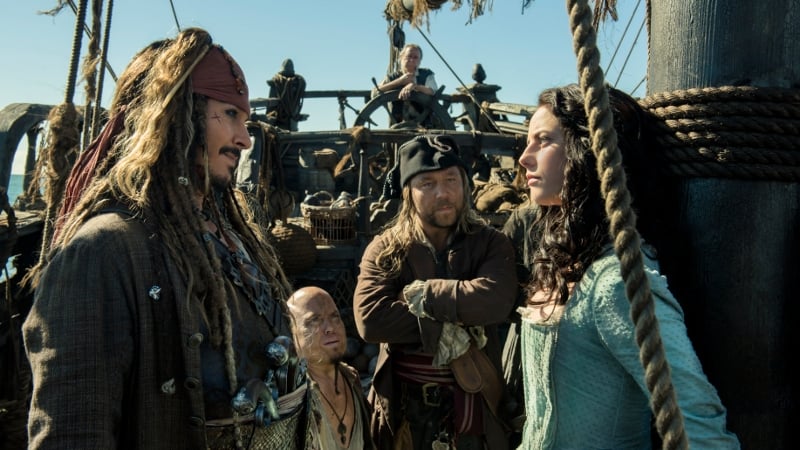 There were plenty of one-liners and jokes from a variety of characters, including of course Captain Jack. His character seems to be defined by his oddities, which were only added extras in the beginning. His character's story is no longer interesting, and only his extravagant escapes have maintained the standards set by previous films. He is now a character who has bite-sized phrases to say rather than anything meaningful. A long-running joke was in reference to Carina being a horologist, the implication that is a fancy way of saying prostitute. It just didn't have comedic factor that the audience would expect from a Pirates film. Carina probably gives the strongest performance out of newcomers, the astronomer and intellectual was a great inclusion, and I wish she had more scenes together with Henry.
Salazar's Revenge is an enjoyable watch, but nothing special. The spectacular underwater finale has something of the old Pirates films in, and the CGI is very impressive, quite reminiscent of "up-is-down" scene in At World's End. I would like to see 2 more films (probably an unpopular opinion) despite the running out of steam of this franchise, but I think, if done well, Henry and Carina can grow into their roles and provide a different series of stories that don't rely on old myths and treasures. The astronomical aspect could provide a different way of searching for adventures, the romance can develop properly, Jack can become more wizened yet keep his outrageous antics. We'll have just have to wait to see if the Pirates ship has run aground. 
---
The Humpo Show | Richard