No. 16 Short Film Ratings (Comedy)
The films that I have watched recently are National Lampoon's Senior Trip, Sausage Party, Dazed and Confused, Fast Times at Ridgemont High and Can't Hardly Wait.
National Lampoon's Senior Trip 3 / 5
(Jeremy Renner's acting debut)
IMDb Rating: 5.6
Released: 1995
Starring: Jeremy Renner, Matt Frewer, Valarie Mahaffey, Tara Cherendoff, Nicole DeBoer.
While on detention, a group of misfits and slackers have to write a letter to the President explaining what is wrong with the education system. There is only one problem, the President loves it! Hence, the group must travel to Washington to meet the Main Man.
A typical National Lampoon film about a rowdy bunch of kids and the hi-jinks they get up to on a road trip to Washington D.C.  There is the usual mix of the cool, pretty boy kid, the clever girl, the fat guy, the sexy girl and the idiot, and also a common feature in these types of film, is the teacher who struggles to control the class. There are some funny moments, and the group work well together, but it doesn't come close to other films of a similar ilk.
Sausage Party 3.5 / 5
(Made $140m, a spoof of Disney Pixar films)
IMDb Rating: 6.4
Released: 2016
Starring: Seth Rogen, Kristen Wiig, Jonah Hill, Bill Hader, Michael Cera, James Franco, Danny McBride, Craig Robinson, Paul Rudd, Nick Kroll, Edward Norton, Salma Hayek.
Frank is a sausage who has always wanted to be purchased and "go home," but he does not yet know the truth. What he does not know is that his kind is used as a snack and he strives to find the truth of his existence in this cruel food-eating world.
This is perhaps the most outrageous comedy of recent times. The ending is testament to that. I simply could not believe my eyes or my ears. If you like the obnoxious and utterly disgusting comedy of Seth Rogen and his gang, then you will love this. Surprisingly, the film does have a decent story-line that holds up very well, with plenty of witty jokes, one liners and speeches that are probably the cleverest, in regard to Rogen's previous films. Plenty of laughs!
Dazed and Confused 4.25 / 5
(Matthew McConaughey's catchphrase "Alright, alright, alright" is born. His character also had a line that has been inducted into the American Film Institute's Hall of Fame; "That's what I love about these high school girls, man. I keep getting older, they stay the same age.")
IMDb Rating: 7.7
Released: 1993
Starring: Jason London, Wiley Wiggins, Matthew McConaughey, Sasha Jensen, Michelle Burke, Christine Harnos, Adam Goldberg, Anthony Rapp, Marissa Ribisi, Ben Affleck, Mila Jovovich, Joey Lauren Adams, Rory Cochrane, Renee Zellweger.
It's the last day of school at a high school in a small town in Texas in 1976. The upperclassmen are hazing the incoming freshmen, and everyone is trying to get stoned, drunk, or laid, even the football players that signed a pledge not to.
I absolutely loved this! The stories centring on a multitude of individuals and groups are all well developed, and you can understand the personalities of each and every one. The soundtracks were also perfect, and I have been listening to them on repeat ever since. Dazed and Confused has brilliant music, acting, stories and messages throughout, and is the film I wholeheartedly recommend.
Fast Times at Ridgemont High 3.75 / 5
(Features on the AFI's lists for quotes and comedy.)
IMDb Rating: 7.2
Released: 1982
Starring: Sean Penn, Jennifer Jason Leigh, Judge Reinhold, Robert Romanus, Brian Backer, Phoebe Cates, Amanda Wyss, Ray Walston, Forest Whitaker,
A look at the lives and loves of a group of high school students. It's the final year of high school for Brad Hamilton who decides he should break up with his longtime girlfriend to play the field. He's at a loss however when she breaks up with him first. Jeff Spicoli continues to take delight in getting under the skin of his teacher, Mr. Hand. Others are looking for love, sex and just plain having a good time which, for the most part, they all seem to find though sometimes in unexpected places.
There some likeable characters and others that grate a little bit, but overall Fast Times at Ridgemont High was enjoyable, with a mixture of funny moments, awkward moments and moments where the characters faced real dilemmas rather than the usual run-of-the-mill high school problems that appear in film. The film is best known for Sean Penn's Spicoli, and the sexy scenes featuring Jennifer Jason Leigh's character post-coitus scene, and Phoebe Cates' exit from the swimming pool.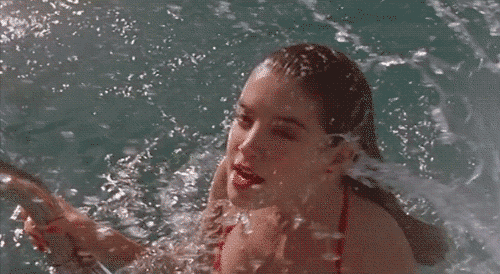 Can't Hardly Wait 3.25 / 5
(A film noted for actors before they became famous; Hewitt, Green, Segel )
IMDb Rating: 6.5
Released: 1998
Starring: Jennifer Love Hewitt, Ethan Embry, Lauren Ambrose, Peter Facinelli, Seth Green.
It's high school graduation and, like all seniors, they want to party. So, 500 high school seniors look forward to a party while, in the meantime, a boy wants to get a girl he's loved for years who just broke up with her boyfriend, and one head-case who wants revenge on a lifelong bully. So, the party comes, things develop. People have sex, drink, and go along with most of the guidelines of a high school graduation party.
A typical post-graduation party film where all levels of the school social hierarchy blend together with hilarious results. The nerd becomes the life and soul of the party, the hesitant boy finally gets the pretty girl, the 'jock' is derided by his peers, and a boy and girl who are poles apart come together. A film to watch when you are in a party mood, and you can join in and sing "Paradise City".
Fact: Charlie Korsmo, who plays the nerd in the film, never acted after this film as he gained a degree in Physics from M.I.T. and has subsequently attended Yale. He is now a Professor teaching Law in Ohio.
---
The Humpo Show | Richard